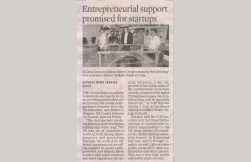 US Consul General in Chennai Visit
20 Jul 2018 10:30 AM
The US Consul General in Chennai, Robert G Burgess has expressed interest in providing mentorship and entrepreneurial assistance to start-ups in India, especially at the Maker Village, which he says, ...
South Korean Delegates' Visit
24 May 2018 11:15 AM
A two member South Korean delegate panel has visited Maker Village, impressed by its progress and encouragement by the Government of Kerala, It has offered to train incubatees in Korea for six months ...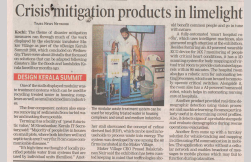 Design Kerala Summit
13 Dec 2018 03:00 PM
#DesignKerala Summit exhibited numerous crisis mitigation products to help and hold disaster management more into our hands. ...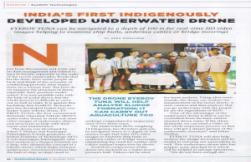 EyeRov Tuna Launch
14 Sep 2018 11:30 AM
India's first indigenously developed underwater drone, EyeRov Tuna, developed by EyeRov Technologies Pvt Ltd, a start-up incubatee at Maker Village, hits the market. ...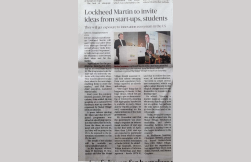 HardTech Kochi
10 Mar 2018 08:25 AM
Lockheed has invited start-ups and market ideas to the US under the flagship annual scheme, 'India Innovation Growth Programme'. ...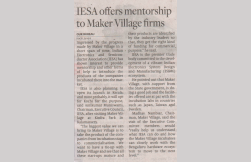 IESA offers mentorship
06 Jun 2018 10:30 AM
Impressed by the progres that the maker village has made, the Indian Electronics and Semiconductor Association (IESA) has offered mentorship and all possible help to launch the products of incubatees ...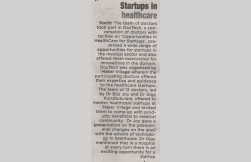 Doctech - Doctors in conversation with Techies
11 Oct 2018 10:00 AM
DocTech, organised by MakerVillage, was an interactive session of a team of Doctors with entrepreneurs to enhance start-ups in the areas of health care. ...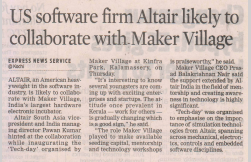 Techday- Simulation driven Innovation by Altair
26 Apr 2018 09:15 AM
Altair India, an American software firm is likely to collaborate with MakerVillage to boost start-ups and enterpreneurships among youth in Kerala. ...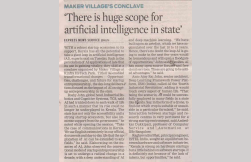 AI Enabled Transformational Changes Event
13 Nov 2018 11:00 AM
A day long session on AI Enabled Transformational Changes had been conducted in Kochi to study and understand the potential of Kerala to have a gaint leap in the field of AI. ...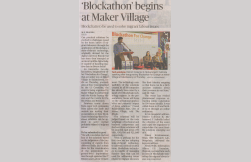 Blockathon for Change
21 Dec 2018 10:30 AM
Blockathon for Change, a two day innovative workshop, was hosted by Maker Villlage, Kalamassery to study the practical challenges posed by the heavy inflow of migrant workers using state-of-the-a...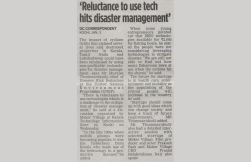 Start Up Charcha - Muralee Thummarakudy
20 Apr 2018 11:00 AM
Start-up charcha was organized by Maker Village to understand the ill effects of non usage of technology for disaster management. The need for developing low cost disaster management technology had al...